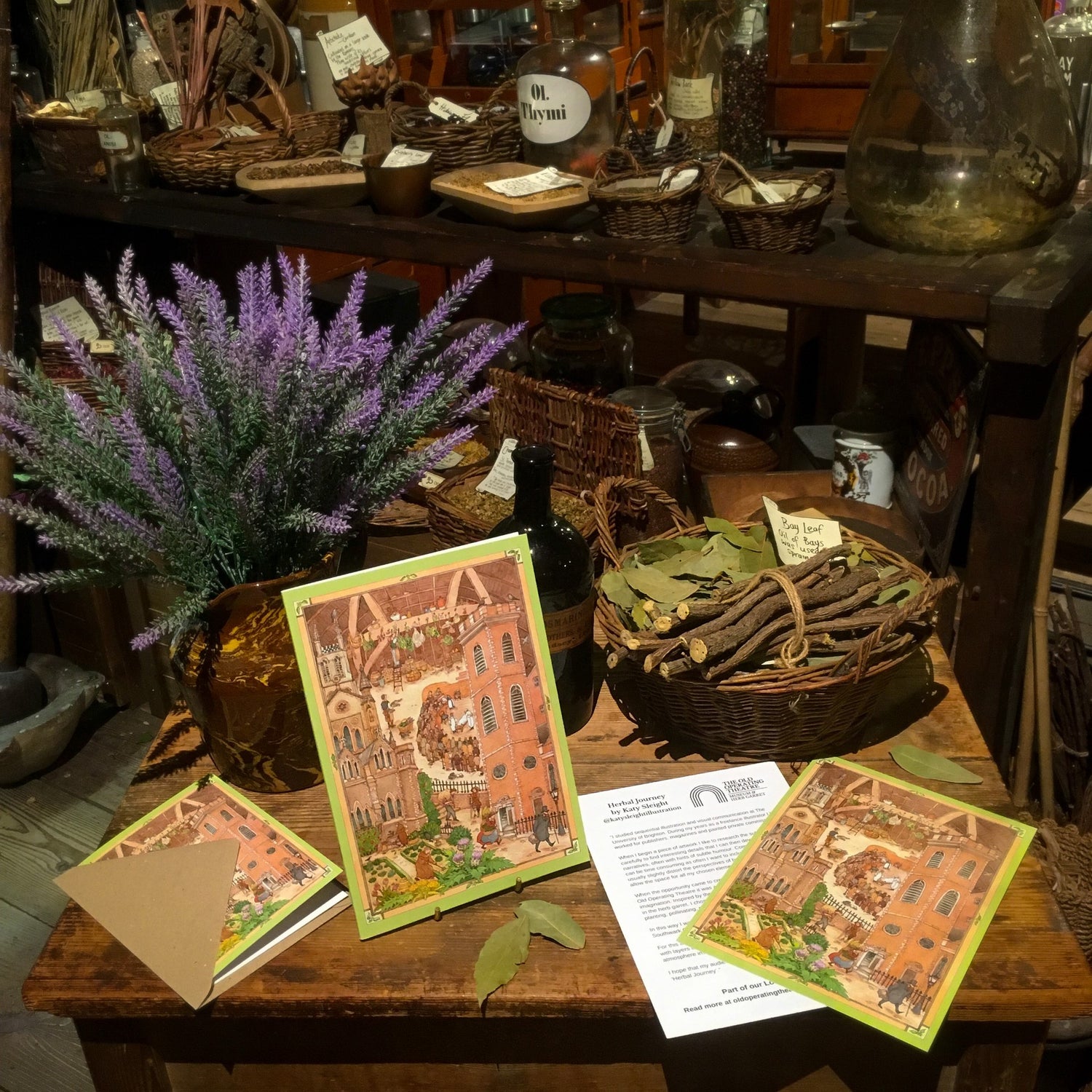 "My name is Katy Sleight and I live in West Sussex. I have worked for Children's and Life Style publishers and illustrated for magazines and greetings cards. I also do private commissions which often give me a greater opportunity to be more creative with my quirky style. These commissions usually take the form of a special birthday or family celebration full of such details as houses, pets, hobbies and the odd car or two! I then have the fun of weaving all the details and elements together for a final painting.
Often my inspiration comes from heritage, history, nature and found objects. I enjoy researching old buildings and local history, collecting ideas in sketchbooks and taking photographic reference where possible.
Weaving stories into my art is very important and when the opportunity came to create an artwork for the Old Operating Theatre it was a perfect setting to spark my imagination. I chose to depict the journey of the herbs from planting, pollinating, gathering and final delivery to the garret. In this way I was able to capture the wonderful architecture of Southwark Cathedral and St Thomas' Church along with the herb garret and operating theatre filled with artefact details to complete the story.
The setting also felt close to home because for years I've had a set of old apothecary drawers that I found in a junk shop in Brighton and have always used it as a way to display found objects such as fossils, pinecones, shells and seedheads.
For my finished piece I worked in dip pen, ink and watercolour. Choosing muted colour tones to complement the dry, shady atmosphere of the subject matter. I hope that both adults and children can explore the many stories and their details found in my artwork and maybe inspire their own pictures."
You can explore more of Katy's work and support her as a local artist by following her on Instagram!
Browse Products with Katy Sleight's Artwork
Regular price

Sale price

£2.00

Unit price

per

Regular price

Sale price

£2.50

Unit price

per

Regular price

Sale price

£5.00

Unit price

per