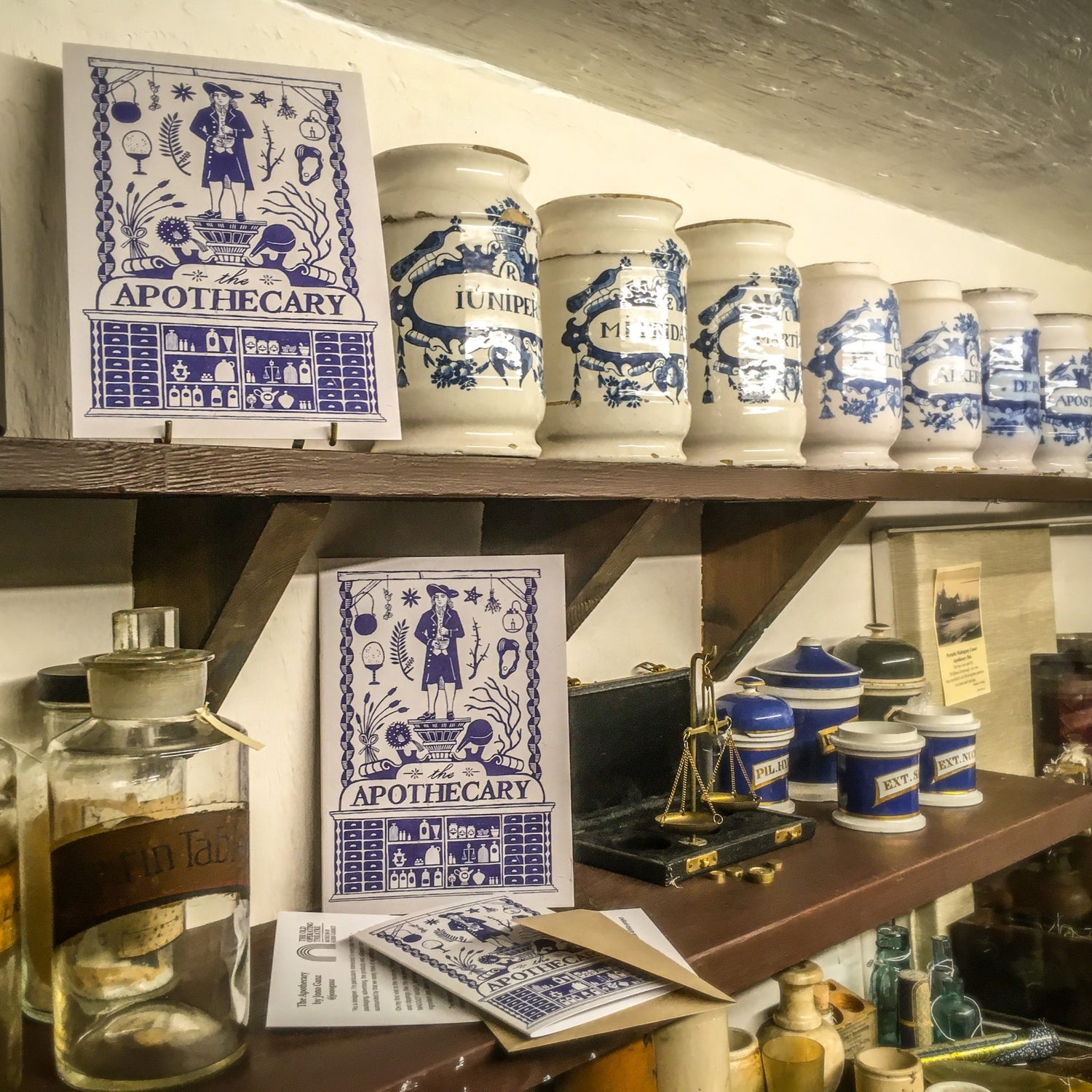 Jono Ganz is an illustrator, author and designer. He draws and writes in his home in London, which he shares with his partner, cat and a 19th century weaving loom. He is interested in folklore and wonky shapes, and his first picture book for children, Mildred the Gallery Cat, is out now from Tate Publishing.
"As a designer, I'm particularly interested in the design of everyday things – packaging, advertising, the products and utilitarian objects we're surrounded by that we rarely think of as aesthetic or beautiful.
On my first visit to the Old Operating Theatre Museum, I loved looking at the branded pill boxes and newspaper clippings (like the one proudly advertising 'CONCENTRATED MAGGOT WASH'), but what really stood out to me were the delftware ingredient jars, lined up prettily on a high shelf in the apothecary.
The decorative nature of these jars seems at odds with their contents, which don't sound particularly appetising to our modern tastes: bear fat, and the juice made from crushed insects. And with their hand-painted flourishes and Latin lettering, they look like they belong in a place somewhat more hallowed than a pharmacy. And yet how much more miraculous would the work of the apothecary have seemed to those ailing in the 17th century?
In fact, I was struck by the description of the role of the apothecary, particularly how their profession would have impacted the rest of their life: as a permanent resident, he was not permitted to marry or to practise medicine outside the Hospital. It paints the picture of a person not just doing their job, but rather following a calling, living a life of piety to medicine. Nearby is another display with images and icons depicting St Thomas Becket, the hospital's namesake, and I couldn't help but feel a link between the two figures in my mind.
For my illustration, I wanted to bring together the ornate designs of the ceramic jars with the symbol-rich images of the saint to tell the story of the figure bound to their profession, just as much a commodity of the apothecary as any of the pastes and powders in the jars."
You can explore more of Jono's work and support him as a local artist by visiting his website or following him on Instagram!
Browse Products with Jono Ganz's Artwork
Regular price

Sale price

£2.00

Unit price

per

Regular price

Sale price

£2.50

Unit price

per

Regular price

Sale price

£5.00

Unit price

per